Impressionen vom Gurtenfetival:

Panaorama vom Dach der Migros Lounge.
Aus meiner Sicht der beste Act am Gurtenfestival: Bloody Beet Roots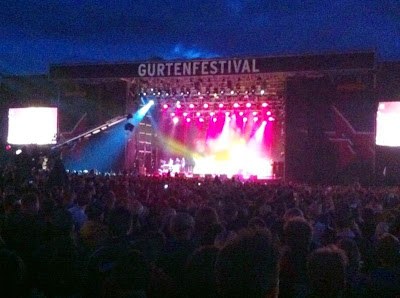 Ein gut gelaunter Jay Kay begeistert Gross und klein.
Wer hätte das Gedacht? Sonnenschein und Bier am Sonntag Nachmittag.
Mein Fazit: Bier, Havanna, Sonne, Freunde, Beatsteaks, Jamiroquai, Bloody Beet Roots, Muskelkater vom Heimweg, Anstehen am Gurtenbähnli, Stürze bei der Abkürzung, Oranges Armband für 4Tagespass, Frühlingsrollen, wo ist Walter, Käseschnitten, Parisienne, erstes Konzert auf der Waldbühne gehört,
Pannen bei Arctic Monkeys, Rock the Block, Cardinal, Baummenschen, The Mole, Brother from Australia, Speaking english, Späckbuuse, Bümpliz, Snakes on the Floor, Watch this view, Pendulum,
Gurtenfestival Buddy, 2 Many DJs, Trentemoller, Schinkensandwich, Henniezfahne,
and much more.........................